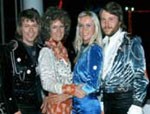 Top artists of the year were Abba. They had emerged on the scene in 1974 with a number one hit "Waterloo" but now the Swedish band took the charts by storm. They had three number one hits: "Mamma Mia", Fernando (fifth biggest single of the year) and Dancing Queen (second biggest of the year) followed by a number thee hit "Money Money Money"
Number two artist was Elton John with help from Kiki Dee. Their duet "Don't Go Breaking my Heart" was a chart topper and third biggest hit of the year. Elton also had top ten hits with "Pinball Wizard" and "Sorry Seems to be the Hardest Word".
British vocalist Tina Charles captured number three position following a good run on the singles chart. Her first was a number one, "I Love to Love". She followed this with a minor hit, "Love Me Like a Lover", but then recaptured her earlier form to reach high in the top ten first with "Dance Little Lady Dance" and then "Dr Love".
The Four Seasons were in fourth place overall. The quartet had enjoyed their greatest success in the US charts of the early sixties but had managed a couple of top ten UK hits in 1975 after a long gap out of the charts. In 1976 they hit number one with "December '63 (Oh What a Night)" and followed this with a top three single, "SilverStar".
The biggest single of the year belonged to "Save Your Kisses for Me" by Brotherhood of Man, a UK million seller. But their follow up "Rosalie" failed to make the top twenty.
Ohers hits of the year included:
Dutch band Pussycat whose number one "Mississippi" was the year's fourth biggest hit and "If You Leave Me Now" by Chicago

Showaddywaddy with their "Under the Moon of Love".

The comedy band the Wurzels whose quirky singles included number one hit "Combine Harvester" and a number three spot for "I Am a Cider Drinker".