The Bay City Rollers were the year's biggest act thanks to three big singles "Bye Bye Baby" (the number two single of the year), "Give a Little Love", a number one, and "Money Honey", a number three.

Second spot went to The Stylistics, who had a quartet of top ten singles including number one hit "Can't Give You Anything But My Love". Their other single hits were "Star on a TV Show", "Sing Baby Sing" and "Na Na is the Saddest Word"
Mud were the third biggest performers with a number one hit "Oh Boy" and four more top ten records including "The Secrets That You Keep", "Moonshine Sally", "L-L-Lucy" and "Show Me You're A Woman.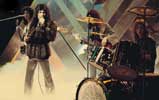 Number four artists of the year were Queen who had hit the number two spot the previous year with "Killer Queen" and now took the top spot with the biggest single of the year, "Bohemian Rhapsody" - a million seller in 1975.
Among the other bigger acts of the year was Rod Stewart whose
number one hit "Sailing" was the third biggest of the year. He
also hit the top five with "This Old Heart of Mine".

10cc had a number one single with "I'm Not in Love" (fourth
biggest hit of the year) following that with top five single
"Art for Art's Sake".

Comedy actors Windsor Davies and Don Estelle revived "Whispering Grass" for a novelty number one that was the fifth biggest hit of the year.
David Essex followed his 1974 success with a number one "Hold Me Close" and two top twenty singles "Rollin' Stone" and "If I Could".