Topping the performers list for the year for the third
consecutive year was the Osmonds (including Donny, Marie and
Little Jimmy as solo artists).Their hit singles included only
one chart topper "Love Me For a Reason" while Donny and Marie
had their big hits as a duet reaching number two spot with
"I'm Leaving it up to You" followed by a top five hit for
"Morning Side of the Mountain". There were another three top
twenty hits for the band, Donny and Jimmy respectively.

Second placed act for 1974 was British glam rock band, Mud. Their big singles included number ones "Tiger Feet" and "Lonely This Christmas" plus top five hits "The Cat Crept In" and "Rocket".
Children's TV characters, the Wombles, were the unlikely number three performers. They had a steady stream of top ten singles throughout the year starting with "The Wombling Song" and followed by "Remember You're a Womble", "Banana Rock", "Minuetto Allegretto" and their biggest hit of the year a number two placing for "Wombling Merry Christmas".
Gary Glitter and the Glitter Band continued to enjoy big hits
and were the fourth placed act of 1974. There were three
single hits for Gary Glitter and another three for the Glitter
Band without their leader - although they continued to work
together. Gary's hits included a number one, "Always Yours"
and top three hits with "Remember Me This Way" and "Oh Yes
You're Beautiful". The Glitter Band had top ten hits with
"Angel Face", "Just For You" and "Let's Get Together Again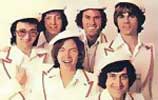 Fifth spot for the year went to the Rubettes. Their first hit
"Sugar Baby Love", reached number one. They followed this with a top twenty single, "Tonight" and finished the year with a top three record "Juke Box Jive".

The big singles of the year included David Essex "Gonna Make You a Star" which he followed with top ten hit "Stardust".

"Billy Don't Be a Hero" by Paper Lace who also had a top three hit with "The Night Chicago Died" and a top twenty entry with "The Black Eyed Boys".

Alvin Stardust whose "Jealous Mind" was a number one and who also had top ten hits with "Red Dress" and "You You You".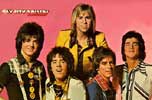 Scottish boy band Bay City Rollers scored the fifth biggest album of 1974 with "Rollin" along with four top five hits including "Remember", "Shang-a-Lang", "Summerlove Sensation" and "All of Me Loves All of You".