The Osmonds invaded the UK charts in 1972 and were the top act of the year. They were able to launch hit singles either as a complete family band or as soloists. As a family group their biggest hit was "Crazy Horses" which reached number two.

However, 14 year-old Donny Osmond had already
topped the chart with "Puppy Love" the third biggest hit for1972. he followed this up with top five hits "Too Young" and "Why". Later in the year an even younger brother, Little Jimmy Osmond, topped the charts with "Long Haired Lover From Liverpool" which stayed at the top well into the new year.
T. Rex were pushed into second place for the year. However, they still managed the fifth biggest hit of the year with "Metal Guru" and also topped the charts with "Telegram Sam" while hitting number two spot with both "Children of the Revolution" and "Solid Gold Easy
Action".
Number three act for the year were the New Seekers. Their number one single "I'd Like to Teach the World to Sing" was the biggest of the year. They enjoyed continued single success with top five hits "Beg Steal or Borrow" and "Circles".

Fourth place went to Slade. They had topped the charts in 1971 with "Coz I Luv You" and were now able to release a barrage of of rock hits with quirky spellings. Their chart toppers included "Take Me Bak 'ome" and "Mama Weer All Crazee Now" while "Gudbuy T'Jane" stalled at number three and "Look Wot You Dun" reached the top five.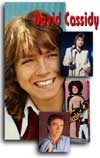 Number five artist was David Cassidy (initially with the Partridge Family), he had a number one hit with "How Can I Be Sure" and top ten singles with "Could it Be Forever" and "Rock Me Baby". With the Partridge Family he reached number three with "Breaking Up Is Hard To Do" and had a top ten success with "It's One of Those Nights".
Among the top singles of the year were Nilsson who had the fourth biggest single of 1972, with "Without You" and Rod Stewart had two big hits, with"You Wear it Well" and top five hit "Angel".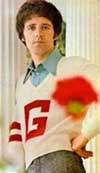 Gilbert O'Sullivan followed top ten hits "Alone Again Naturally" and "Ooh-Wakka-Doo-Wakka-Day" with number one "Clair".

Glam group Sweet who were top ten regulars with "Poppa Joe", "Little Willy" and "Wig-Wam Bam".