Well, I don't have too much to say about this site, just a collection bits and pieces looking back at my days at Upbury during the 1970s.
Well that's about it for the intro, just feel free to look about. If I have got anything wrong just let me know.


The 70s




Above are some links to pages that give you an insight to the things we were
watching , listening to , and wearing.
The pages are not finished and over time more content will be added, if you have
ideas or suggestions then just let me know.



Photo Album
Click below to enter the album. It will open in a new browser window.

Enter



A short cine film kindly donated by B Edwards featuring several rascals available to view on U Tube. Just click on the logo , the page will open in a new browser window.


What was the best house?
Answers on a postcard to: Gordon Was The Best House Competition

View a cover for a school report (don't laugh, it's mine)
Click on the image to enlarge: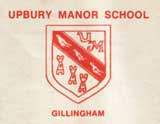 (Will open in a new browser window)




View the Presentation Of Examination Certificates that took place at the school in 1979.You will need Acrobat Reader. View (Will open in a new browser window)